HvA involved in EU KIC plans
08-06-2014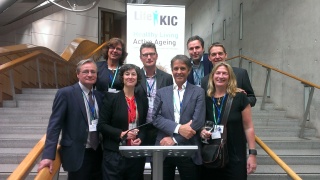 LifeKIC is a proposal to the European Institute of Innovation & Technology (EIT) to establish a Knowledge Innovation Community focussed on the theme of Healthy Living and Active Ageing.
In 2008 the European Commission established the EIT as a new initiative to complement the activities of its research programmes and stimulate the commercialisation of the research emanating from these and national programmes. The EIT's mission is "to increase sustainable growth and competitiveness in Europe by reinforcing the capacity for innovation". Its headquarters are in Budapest but it delivers its activities through the creation of Knowledge Innovation Communities (KICs).
Bids to establish new KICs will be submitted in September 2014 with the winners being announced in December. Provided the LifeKIC bid is successful it will establish itself during 2015 and properly start its work in early 2016.
Each KIC consists of a network of up to six Co-location Centres located in different European Member States. Based on the research capacity of these Co-location centres, the EIT provides funding to each KIC to allow them to implement a programme of entrepreneurially driven innovation focussed on bringing together all components of the knowledge triangle: business, education and research.
More information on lifekic.eu