Virtual Worlds for Well-being
Home > Projects > Virtual Worlds for Well-being
Well-being is important for both young and old, and in this digital technologies can play a role. This project focuses on the use of virtual worlds and sensors. The Amsterdam University of Applied Sciences is involved in three distinct subprojects: 'Touch', 'Exercise' and 'Monitor'.
The elderly require social interaction. The subproject 'Touch' addresses the question of how IT can provide a solution for this social stimulation through the use of tangible interfaces. Elderly retirees commence a new social phase after exiting the workforce. Often they are left facing the question what to do next. Family? Travel? Evidence supports that physical contact has an emotional value and constitutes a form of communication directly related to a sense of social connectedness. Usage of applications limited to audiovisual technologies like iPads are thus insufficient in fulfilling this need. The subproject 'Touch' explores interfaces that can simulate this needed sensory stimulation.
The subproject 'Exercise' examines virtual worlds and sensors that encourage the user to ambulate and perform their exercises. The coaching of patients after hip surgery is the key focus of this project.
In the subproject 'Monitor' an interactive wall was developed for elderly suffering from dementia. In one of AMSTA's nursing homes a wall was equipped with sensors and large displays, on which images of patients' pasts can be displayed.
Images & Video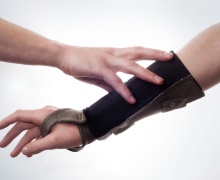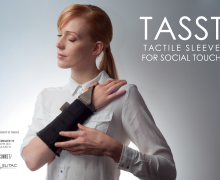 Publications
Towards tactile expressions of touch through mediated touch
( 2013 ) Gijs Huisman & Aduén Darriba Frederiks Abstracts of CHI'13 download
Self touch to touch others: Designing the tactile sleeve for social touch
( 2013 ) Gijs Huisman, Aduen Darriba Frederiks, Betsy van Dijk, Ben Kröse & Dirk Heylen Proceedings of TEI'13
The TaSST - Tactile Sleeve for Social Touch
( 2012 ) Gijs Huisman, Aduen Darriba Frederiks, Betsy van Dijk, Ben Kröse & Dirk Heylen Proceedings of World Haptics Conference'13 download
Living Labs as educational tool for ambient intelligence
( 2012 ) Ben Krose, Mettina Veenstra, Saskia Robben & Marije Kanis Proceedings of AmI'12 download
Sensor monitoring in the home: Giving voice to elderly people
( 2013 ) Marije Kanis, Saskia Robben, Judith Hagen, Anne Bimmerman, Natasja Wagelaar & Ben Kröse Proceedings of Pervasive Health '13 download
Reducing dementia related wandering behaviour with an interactive wall
( 2012 ) Saskia Robben, Kyra Bergman, Sven Haitjema, Yannick de Lange & Ben Kröse Proceedings of AmI'12 download
Designing persuasive interactive environments: A hands-on workshop to explore interactivity and persuasion in design
( 2012 ) Marco Rozendaal, Aadjan van der Helm, Walter Aprile, Arnold Vermeeren, Tilde Bekker, Marije Kanis & Wouter Middendorf Proceedings of AmI'12 download